Library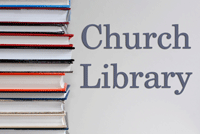 Library features
The church library is open for use whenever the church is open and there is not a meeting in the library.
Stop by the Church Library sometime.  Suggestions are always welcome.
To check out any items, just  take the card from the back pocket, sign your name, and leave it in the little file box by the door. 
If you'd to donate appropriate new or gently used books, I will be posting a "wish list" of titles that would be welcome additions.
We appreciate book suggestions from any of you who love to read! 
Thanks to Pastor Sarah for buying 3 books in the "A Very Short Introduction" series.  The subjects are Christianity, God, and Biblical Archaeology.  There's lots of information packed in these small books on Christianity and history.
There's a wish list on Amazon.com for First Presbyterian Library Delhi NY that has some titles I'd like for the library.  Used books are fine!  I could use some suggestion for books for older kids.  We have lots of classics and older series but could use new stuff.
We're still accepting donations, and especially can use children's books in good, clean condition.